Let us transform your outdoor space!  Please click on the links below to learn more about our services.
Our services include:
Interlocking Stone Driveways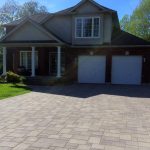 Installing an interlocking stone driveway will instantly increase the curb appeal and value of your home.   With a variety of styles, textures, and colours to choose from, interlocking stones can be arranged in a number of ways to create visually stunning, truly unique driveways.  In addition to "wowing" your guests and potential home buyers, interlocking stone driveways are durable, functional, and environmentally friendly.  Damaged or stained stones are easily replaced, and unlike concrete or asphalt driveways, interlocking stone driveways are designed to accommodate expansion caused by frost.
The professionals at Rock Landscaping have been installing interlocking stone driveways in North Bay and the surrounding area for twenty years.  We know that in order to achieve a beautiful and long lasting result, attention to detail must be paid at every step along the way.  Please contact us today to learn more about our installation process.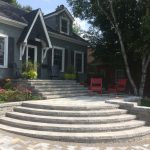 Steps and entrances are often the focal point of a front yard, and much like driveways, they provide an opportunity to increase the curb appeal and value of your home.  A well designed staircase or entrance should flow and allow you to transition naturally from one level to another or from outside to inside. When designing an entrance or staircase it is important to be mindful of proportions.  An entrance that is too large can make a home appear small, whereas an entrance that is too small may be unsafe and difficult to manoeuver through.  While many materials can be used to create steps and entrances, including precast concrete stone, natural stone, and treated lumber, some are better suited than others.  Please contact us today to learn more about our step and entrance installation process.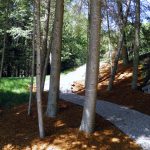 Walkways primarily serve a functional purpose, getting us from point A to point B.  They can be made using a variety of materials such as interlocking stone, flagstone, decorative aggregates, wood chips, mulch, and gravel.  When incorporating a walkway into a design it is important that the walkway is not too indirect or narrow.  If the walkway is too indirect or narrow users may opt to walk a more direct path and bypass the walkway.
Patios are typically adjoined to houses and have hard surfaces such as interlocking stone or flagstone.  Patios are perfect for hiding in the shade, lounging by the pool or hot tub, and barbequing.  So what are you waiting for?  Let us install your backyard oasis.  Call us today if you live in North Bay, Callander, Corbeil, or the surrounding area.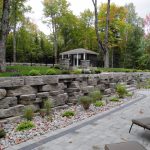 Retaining walls are most often installed to prevent the movement of soil.  When a terrain slopes too dramatically soil tends to erode, shifting laterally over time.  In areas where there is little vegetation, high winds or heavy rainfalls, erosion can occur quickly.  Retaining walls provide structural support for the surrounding terrain, creating less dramatic slopes.  As a result, the terrain receives less exposure to wind and the drainage of surface water is more controlled.  As an added benefit, a retaining wall may help to increase the amount of usable space on your property.
A variety of materials can be used to create retaining walls, including precast concrete stone, natural stone, treated lumber, and concrete with a stone veneer.  Each type of building material has its own installation process and respective limitations.  Hydrostatic pressure is undoubtedly the leading cause of retaining wall failure and nothing is more crucial to the longevity a retaining wall than installing an effective drainage system. At Rock Landscaping we value your investment and take every precaution to ensure that your retaining wall remains beautiful and structurally sound for many years to come.
Natural Stone Patios, Walkways, Retaining Walls, And Steps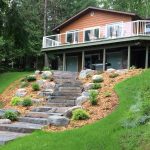 Ideal for lakefront homes and cottages, natural stone installations are the perfect complement for your rustic retreat.  Thousands of years in the making no material is more durable or better suited to withstand the elements.  Solid, environmentally friendly, and reusable, each stone is truly unique.  We use locally sourced granite and limestone to create all of our natural stone installations.  Available in a variety of shapes, sizes, and textures there is a natural stone for almost every application.  It can be split to produce a rough texture or cut and resurfaced to create breathtaking flagstone patios and walkways, retaining walls, steps, fire pits, hearths, and benches.
Grass Sodding And Seeding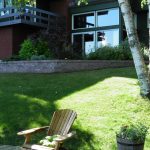 Become the envy of your neighbourhood with a lush green lawn installed by the professionals at Rock Landscaping.  Whether sodding or seeding your lawn we have the expertise and equipment to get the job done right.  We use only the highest quality fertilizers, sod, seed, and soil in order to achieve amazing results.
Trees, shrubs, and flowers are essential elements for bringing any landscape to life.  They can be used as focal points or to provide us with privacy, shade, and wind protection.  Creating a beautiful garden requires some planning and vision.  We must envision trees and gardens not as they are now, but as they will be in five, ten, or even twenty years.  We must consider how quickly, how tall, and how wide each plant will grow. We must also consider the sun, soil, moisture, and temperature requirements of each plant. Most importantly, we must consider the needs of each client. While some of us enjoy weeding and pruning, many of us prefer low maintenance gardens.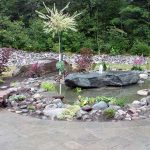 Water features are a charming way to add visual and auditory interest to your landscape. They can be small, simple, and self-contained such as fountains and bubbling rocks, or larger and more complex such as ponds and waterfalls. Regardless of their shape or size however, the soothing sounds of a water feature are sure to calm your nerves and put your mind at ease. Of course, you may not be the only one relaxing in your new private oasis. Birds, frogs, and dragonflies are especially drawn to water features.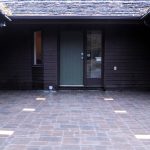 Landscape lighting is an excellent way to create ambiance and showcase both your landscaping and the architectural features of your home. Lighting makes your home safer and more inviting at night, improving its curb appeal and functionality. Lights can be used to accentuate steps, pathways, trees and shrubs, stonework, pillars, and water features. In addition, low voltage LED lights are energy efficient and can be turned on and off by a timer or photosensitive eye.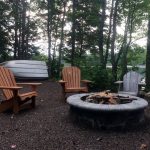 Fire pits are the quintessential element for every cottage or rustic retreat. Whether you're enjoying a quiet night with your family or entertaining friends, fire pits create a warm, cozy, and inviting atmosphere that brings people together. Fire pits can be either wood burning or gas burning and they are built using a variety of materials, such as natural stone boulders, precast concrete stone, and poured concrete with a stone veneer. Depending on the building material they may also be equipped with metal inserts, grills for cooking, and metal enclosures to contain embers.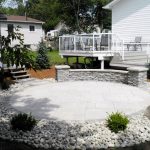 Pillars are often installed for practical and decorative purposes. Pillars may be used to accentuate gates, create fence posts, mount lighting fixtures, mount address markers, or provide structural support and definition at the end of a wall. Similar to pillars, seat walls serve both practical and decorative purposes. As their name implies, they are used as seats, however, they can also be used to define the boundaries of a space or to showcase materials.